Today In The Past
Events
 314 – Battle at Cibalae: emperor Constantine beats emperor Licinius
451 – Council of Chalcedon (4th ecumenical council) opens
 876 – Battle at Andernach: Louis the Young beats Charles the Bare
1075 – Dmitar Zvonimir is crowned king of Croatia.
1480 – Great standing on the Ugra river, a standoff between the forces of Akhmat Khan, Khan of the Great Horde, and the Grand Duke Ivan III of Russia, which resulted in the retreat of the Tataro-Mongols and eventual disintegration of the Horde.
1604 – Supernova "Kepler's nova" 1st sighted
1633 – Massachusetts Bay Colony forms its 1st government
1769 – Captain James Cook is the first European to land in New Zealand (Poverty bay) 
1806 – British forces lay siege to French port of Boulogne using Congreve rockets, invented by Sir William Congreve
1856 – Chinese police board British vessel Arrow, arrest 12 Chinese crewmen on suspicion of piracy & lower Brit flag, begins 2nd Anglo-Chinese War
1860 – Telegraph line between LA & SF opens
1862 – Battle of Perryville, KY-Confederate invasion halted
1862 – Otto von Bismarck becomes German republic chancellor
1865 – Earthquake in Santa Cruz Mountains
1871 – Gas explosion destroys Peshtigo, Wisconsin
1871 – Great Fire kills 200, destroys over 4 square miles (10 square km) of Chicago buildings, & original Emancipation Proclamation
1873 – 1st women's prison run by women opens at Indiana Reformatory Institute
1879 – War of the Pacific: the Chilean Navy defeats the Peruvian Navy in the Battle of Angamos, Peruvian Admiral Miguel Grau is killed in the encounter.
1896 – Dow Jones starts reporting an average of selected industrial stocks
1904 – 1st Vanderbilt Cup auto race (Hicksville, Long Island, NY)
1906 – Karl Nessler demonstrates 1st 'permanent wave' for hair, in London
1915 – Battle of Loos, almost 430,000 French, British & Germans killed
1918 – Sgt Alvin York single-handedly kills 25, captures 132 Germans (see also Uncurrent Events 9/02)
1927 – Sea battle at Navarino (Greece freed of Ottoman occupation)
1934 – Bruno Hauptmann is indicted for murder of Lindbergh's son
1942 – Fight at Matanikau, Guadalcanal (John Hersey-Into the Valley)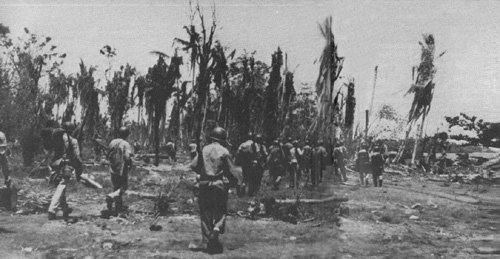 1945 – Harry Truman announced atomic bomb secret shared with Britain & Canada
1946 – Kwo-less-shrew selects Gen Chiang Kai-shek as president of China
1952 – 2 trains collide with a derailed commuter train, kills 112 (England)
1952 – Chinese offensive in Korea
1955 – Worlds most powerful aircraft carrier, Saratoga (US), launched
1956 – Don Larsen, NY, pitches only perfect World Series game, vs Brooklyn
1957 – Soviet spy Jack Sobel sentenced to 7 years (NYC)
1957 – Turkish & Syrian border guards exchange fire
1961 – US Constellation crashes at Richmond Virginia, 74 die
1962 – Spiegel scandal: Der Spiegel publishes the article "Bedingt abwehrbereit" ("Conditionally prepared for defense") about a NATO manoeuver called "Fallex 62″, which uncovered the sorry state of the Bundeswehr (Germany's army) facing the communist threat from the east at the time. The magazine was soon accused of treason
1967 – Guerrilla leader Che Guevara and his men are captured in Bolivia.
1969 – The opening rally of the Days of Rage occurs, organized by the Weather Underground in Chicago, Illinois.
1970 – Soviet author Alexander I Solzhenitsyn wins Nobel Prize for Literature
1971 – John Lennon releases his megahit "Imagine"
1972 – Harold Carmichael begins NFL streak of 127 consecutive game receptions
1974 – Franklin National Bank collapses due to fraud and mismanagement; at the time it was the largest bank failure in the history of the United States.
1980 – Bob Marley collapses on stage, brought to Sloan-Kettering Hospital
1980 – British Leyland starts selling Mini Metro
1981 – USAC appeals panel restores disputed Indy 500 victory to Bobby Unser
1981 – Pres Reagan greeted predecessors Jimmy Carter, Gerald R Ford & Richard Nixon before sending them to Egypt for Anwar Sadat's funeral
1982 – Poland bans Solidarity & all labor unions
1985 – Little Richard seriously injured in a car accident
1986 – RUN DMC calls for a day of peace among LA street gangs
1988 – Fire in Seattle's Space Needle causes evacuation, $2,000 damage
1990 – US doctors Joseph E Murray & E Donnall Thomas win Nobel Prize
1992 – Pioneer Venus Orbiter (1st Venus orbiter-1978), crashes into Venus
1995 – Dolphin's Dan Marino breaks Tarkenton's NFL career completions record
1999 – New Coligny Calendar, NCC, The beginning of a new era of the Coligny calendar, the oldest material Celtic calendar.
2001 – U.S. President George W. Bush announces the establishment of the Office of Homeland Security.
Births
1515 – Margaret Douglas, Countess of Lennox (d. 1578)
1619 – Philipp von Zesen, German poet/historian (Amsterdam)
1676 – Benito Jerónimo Feijóo y Montenegro, Spanish scholar (d. 1764)
1713 – Yechezkel Landau, Polish rabbi and Talmudist (d. 1793)
1715 – Michel Benoist, French Jesuit missionary (d. 1774)
1818 – John Henninger Reagan, Atty Gen (Confederacy)
1838 – John Milton Hay, politician (Union), died in 1905
1869 – J Frank Duryea, inventor (1st auto built & operated in US)
1883 – Otto Heinrich Warburg, German physician, Nobel laureate (d. 1970)
1883 – Dick Burnett, American musician (d. 1977)
1889 – C. E. Woolman, American airline founder (d. 1966)
1890 – Eddie Rickenbacker, aviator "Ace of Aces" (WW I)
1900 – Geoffrey Alan Jellicoe, landscape architect
1910 – Gus Hall, American union organizer and head of the U.S. Communist Party (d. 2000)
1917 – Danny Murtaugh, baseball manager (Pittsburgh Pirates)
1917 – Billy Conn, American boxer (d. 1993)
1920 – Frank [Patrick] Herbert, US, sci-fi author (Dune)
1927 – César Milstein, Argentine scientist, Nobel laureate (d. 2002)
1934 – Doc Green, rocker (Drifters)
1936 – Rona Barrett, NYC, gossip columnist (Tomorrow Show)
1938 – David Willis, British journalist (BBC World Service)
1939 – Paul Hogan, Australia, actor (Crocodile Dundee, Lightning Jack)
Paul Hogan's Awesome Speech At The Oscars             Perce the Wino
                   Join the Australian Army                                                Alternative Olympics (Aussie Games)
Family Picnic                                                                 Leo Wanker Gets Towed
            S.W.A.T.T.                                                                    Commonwealth Religious Games
Dangers of Cycling                                                       A Fistful of Ravioli
1939 – Lynne Stewart, American civil liberties lawyer
1941 – Jesse Jackson, Greenville SC, clergyman/presidential candidate (D)
1943 – Chevy Chase, NYC, comedian/actor (SNL, Vacation, Fletch, Caddyshack)
1943 – R L Stine, Columbus, Ohio, children's book writer (Goosebumps)
1945 – Roy Royer, rock guitarist (Procol Harum)
1947 – Yelena Ivanovna Dobrokvashina, Russian cosmonaut (Soyuz T-15a)
1948 – Johnny Ramone [Cummings], Long Island, New York, American rock guitarist (Ramones)
1948 – Stefanie Marrian, Paris France, comedienne (Benny Hill Show)
1948 – Benjamin Cheever, American novelist and editor
1949 – Hamish Stuart, Scotland, guitarist/singer (Average White Band)
1949 – Michael Rose, rocker (Average White Band)
1949 – Sigourney Weaver [Susan Alexandra] , LA, actress (Alien, Working Girl)
1955 – Bill Elliott, auto racer (Daytona-1978)
1955 – Lonnie Pitchford, American blues musician
National Down Home Blues Festival
If I had Possession Over Judgement Day
1956 – Janice E Voss Ford, South Bend Ind, PhD/Astronaut (STS 57, 63, 83, 94)
1958 – Steve Coll, American journalist
1959 – Carlos I Noriega, Lima Peru, astronaut (STS 84, sk 97)
1960 – Reed Hastings, American businessman and entrepreneur
1961 – Ted Kooshian, American jazz pianist
1962 – Bruno Thiry, Belgian rally driver
1964 – CeCe Winans, American singer
1965 – Matt Biondi, US 100m swimmer (Olympics-3 gold-84, 88, 92)
1965 – C-Jay Ramone, American musician (The Ramones)
1966 – Art Barr, American wrestler (d. 1994)
1972 – Dede Demet, Milwaukee Wisc, cyclist (Olympics-96)
1973 – Toby Haenen, Hobart Tasmania Aus, backstroke swimmer (Olympics-96)
1973 – Tracy Bonner, Webster Texas, diver (Olympics-96)
1977 – Anne-Caroline Chausson, French mountain-bike rider
1979 – [Gregory] Chad Petree, Shawne Oklahoma, rocker (PC Quest-Can You See)
1979 – Kristanna Loken, American actress
1983 – Travis Pastrana, American motorsports competitor
 
Deaths
 705 – Abd al-Malik, kalief of Damascus, dies
976 – Jelena of Zadar, Croatian queen
1094 – St Mark, the Evangelist, buried in San Marcos minstery in Venice
1286 – John I of Dreux, Duke of Brittany (b. 1217)
1317 – Fushimi, Emperor of Japan (b. 1265)
1647 – Christian Sørensen Longomontanus, Danish astronomer (b. 1562)
1652 – John Greaves, English mathematician (b. 1602)
1656 – Johann Georg I, ruler of Saxon (1611-56, Peace of Prague), dies at 71
1735 – Yongzheng Emperor of China (b. 1678)
1754 – Henry Fielding, English lawyer/author (Tom Jones), dies at 47
1793 – John Hancock, US merchant/statesman (Decl of Independence), dies at 56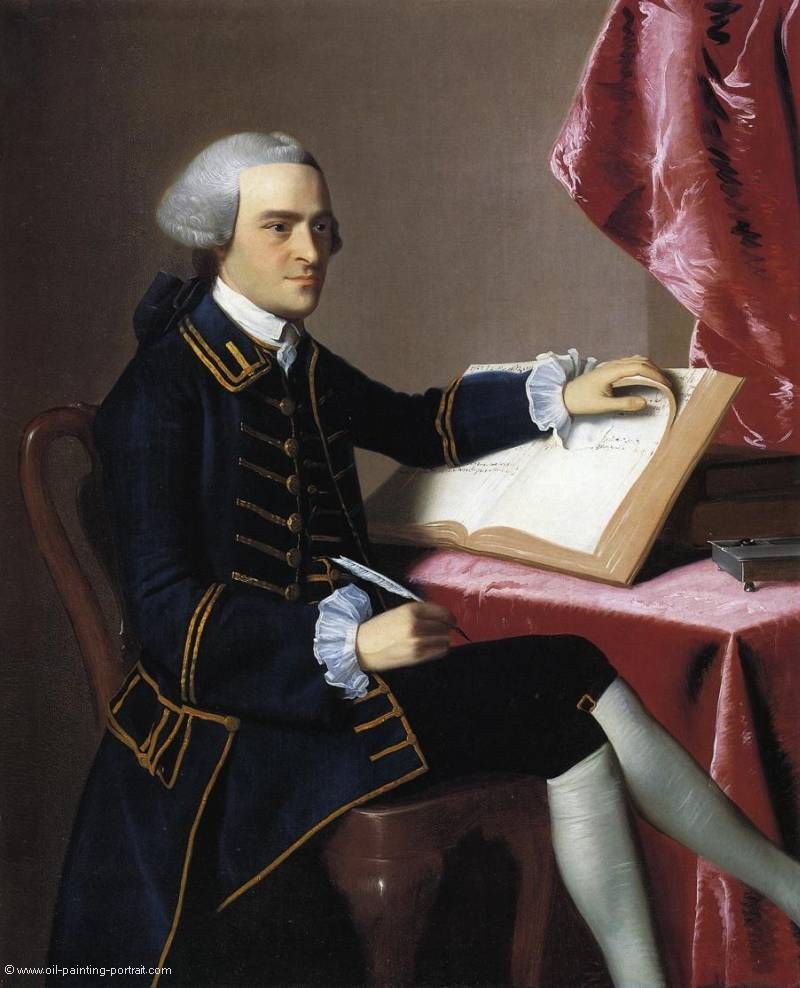 1862 – James Streshley Jackson, attorney/Union-brig-gen, dies in battle at 39
1862 – William Rufus Terrill, Union brig-general, dies in battle at 28
1864 – Thomas Jonathan Coffin Amory, US Union-brig-general, dies at about 34
1869 – Franklin Pierce, 14th president (1853-1857), dies in Concord NH at 64
1879 – Miguel Grau Seminario, Peruvian Admiral (b. 1834)
1931 – Sir John Monash, Australian soldier general (b. 1865)
1936 – William Henry Stark, American business leader (b. 1851)
1940 – Robert Emden, Swiss geo/astro physics (Gaskugeln), dies at 78
1942 – Sergei Chaplygin, Soviet engineer
1944 – Wendell Lewis Wilkie, Republican politician, dies at 52
1953 – Nigel Bruce, actor (Son of Lassie, Spider Woman), dies at 58
1967 – Clement R Attlee, premier pf Great Britain (1945-51), dies at 84
1982 – Fernando Lamas, actor/director (Lost World), dies of cancer at 67
1982 – Philip J Noel-Baker, English minister (Nobel 1959), dies at 92
1985 – Leon Klinghoffer, hijackers of Achille Lauro, threw him off boat
1990 – B.J. Wilson, English musician (Procol Harum) (b. 1947)
1995 – Christopher Keene, musician, dies at 48
1996 – Joseph Roy George Ralston, pilot, dies at 81
2004 – Jacques Derrida, French philosopher (b. 1930)
2004 – James Chace, American historian (b. 1931)
2006 – Mark Porter, New Zealand racing driver (b. 1975)
2008 – George Emil Palade, Romanian cell biologist (b. 1912)
2011 – Al Davis, American football executive (b. 1929)
2011 – Dennis Ritchie, American computer scientist (b. 1941)
—-