Today In The Past
Events
44 BC – Pharaoh Cleopatra VII of Egypt declares her son co-ruler as Ptolemy XV Caesarion.
44 BC – The first of Cicero's Philippics (oratorical attacks) on Mark Antony. He will make 14 of them over the next several months.
31 BC – Final war of the Roman Republic: Battle of Actium – off the western coast of Greece, forces of Octavian defeat troops under Mark Antony and Cleopatra.
911 – Viking-monarch Oleg of Kiev-Russia signs treaty with Byzantines
1192 – Sultan Saladin & king Richard the lion hearted sign cease fire
1666 – Great Fire of London begins at 2am in Pudding Lane, 80% of London is destroyed
1789 – US Treasury Department established by Congress
1864 – Union General William T Sherman captures and burns Atlanta
1894 – Forest fires destroy Hinckley Minnesota: about 600 die
1898 – Battle of Omdurman: Lord Kitchener retakes Sudan for Britain
1898 – Machine gun 1st used in battle
1901 – VP Theodore Roosevelt advises, "Speak softly & carry a big stick"
1930 – 1st non-stop airplane flight from Europe to US (37 hrs)
1935 – A hurricane slams Florida Keys killing 423
1944 – During WW II, George Bush ejects from a burning plane
1944 – Holocaust diarist Anne Frank was sent to Auschwitz
1945 – V-J Day; formal surrender of Japan aboard USS Missouri (WW II ends)
1969 – The first automatic teller machine in the United States is installed in Rockville Center, New York.
1998 – The UN's International Criminal Tribunal for Rwanda finds Jean-Paul Akayesu, the former mayor of a small town in Rwanda, guilty of nine counts of genocide.
Births
1548 – Vincenzo Scamozzi, Italian architect (d. 1616)
1716 – Johann Trier, composer
1778 – Louis Bonaparte, King of Holland (d. 1846)
1850 – Albert Spaulding, baseball player/founded Spaulding sports company
1914 – Booker T Laury, blues pianist/vocalist
1917 – Laurindo Almeida, Brazilian guitarist (developed bossa nova)
1936 – Andrew Grove, American computer chip manufacturer
1940 – Jimmy Clanton, Baton Rogue, La, rock vocalist (Just a Dream)
1946 – Billy Preston, Houston, Texas, American soul musician/singer and pianist, 5th Beatle (David Brenner Show)
1948 – Terry Bradshaw, NFL QB (Pittsburgh Steelers)/announcer (CBS, FOX)
1951 – Jim DeMint, American politician
1964 – Keanu Reeves, Beirut, actor (Bill & Ted's Excellent Adventure, Speed)
1966 – Salma Hayek, Veracruz, Mexico, actress (Desparado)
1990 – Marcus Ericsson, Swedish Racing Driver
Deaths
490 BC – Pheidippides, Greek hero
1274 – Prince Munetaka, Japanese shogun (b. 1242)
1547 – Hernan Cortes, Spanish general defeated Aztec Indians
1834 – Thomas Telford, Scottish civil engineer (b. 1757)
1964 – Alvin York, American soldier (b. 1887)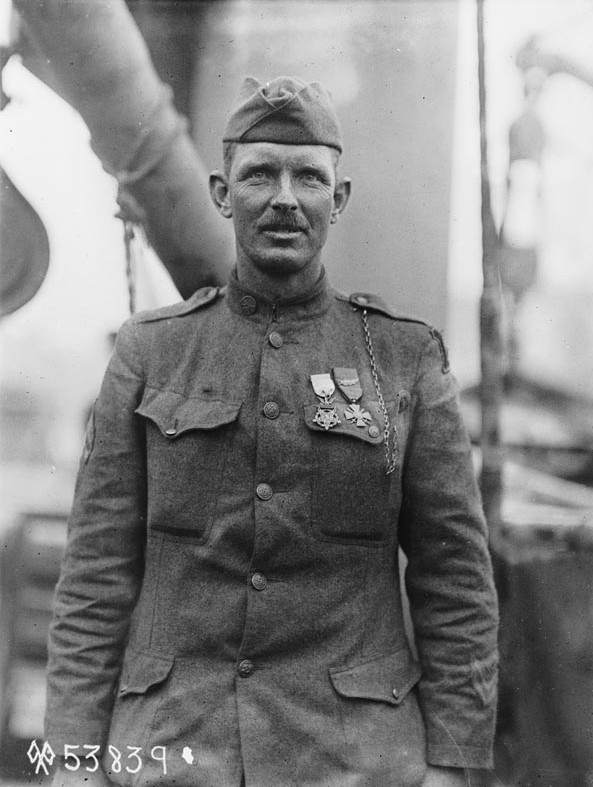 The Home of Alvin C. York (Part 1)
The Home of Alvin C. York (Part 2)
The Home of Alvin C. York (Part 3)
Burial Site of Sgt. Alvin C. York Pall Mall, Tennessee
1973 – John R R Tolkien, British story writer (Hobbit), dies of ulcer at 81
1992 – Barbara McClintock, US, geneticist (Nobel 1983), dies at 90
2005 – Bob Denver, American actor (b. 1935)
2008 – Bill Meléndez, American character animator (b. 1916)
—