Today In The Past
Events
1260 – Saif ad-Din Qutuz, Mamluk sultan of Egypt, is assassinated by Baibars, who seizes power for himself.
1260 – The spectacular Cathedral of Chartres is dedicated in the presence of King Louis IX of France; the cathedral is now a UNESCO World Heritage Site.
1360 – The Treaty of Brétigny is ratified at Calais, marking the end of the first phase of the Hundred Years' War.
1492 – 24 Jews are burned at stake in Mecklenburg Germany
1596 – -26] Battle at Kerestes: Ottoman beat Austria-Hungary & Germany
1648 – Treaty of Westphalia ends 30 year war & Holy Roman Empire
1656 – Treaty of Vilnius: Russia & Poland sign anti-Swedish covenant
1681 – Earl of Shaftesbury accused of high treason in London
1812 – Napoleonic Wars: The Battle of Maloyaroslavets takes place near Moscow.
1861 – West Virginia seceded from Virginia
1882 – Dr Robert Koch discovers germ that causes tuberculosis
1899 – Battle at Rietfontein, South Africa: Boers vs British army
1901 – 1st woman to go over Niagara Falls in a barrel (Anna Taylor)
1903 – George Sutton becomes billard champ
1904 – 1st NY subway opens
1911 – Robert Scott's expedition leaves Cape Evans for South Pole
1911 – Orville Wright remained in the air 9 minutes and 45 seconds in a glider at Kill Devil Hills, North Carolina setting a new world record that stood for 10 years.(see UE 10/05)
1917 – Battle at Caporetto: German & Austria smash Italian army
1922 – Irish Parliament adopts a constitution for an Irish Free State
1924 – Nobel prize for fysiologie/medicine awarded to W Einthoven
1926 – Harry Houdini's last performance, which was at the Garrick Theatre in Detroit, Michigan.
1929 – "Black Thursday," start of stock market crash, Dow Jones down 12.8%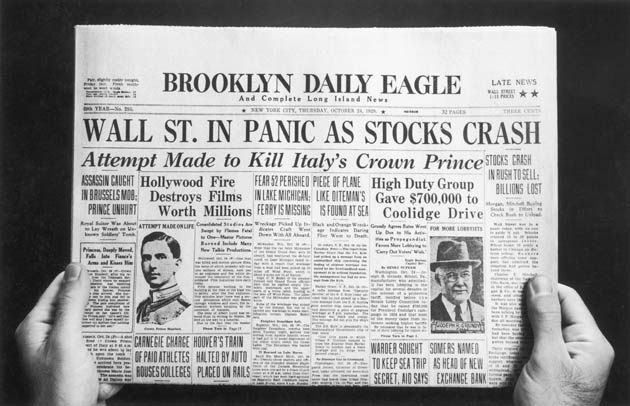 1931 – Gangster Al Capone is sentenced to 11 years for tax evasion
1931 – George Washington Bridge connecting NY to NJ opens
1938 – US forbids child labor in factories
1939 – Nylon stockings go on sale for 1st time (Wilmington Delaware)
1940 – 40 hour work week goes into effect (Fair Labor Standards of 1938)
1942 – 2nd day of battle at El Alamein: British infantry
1944 – US air raid on Jap battleships/cruisers in Sibuya Sea: Musashi sinks
1944 – US aircraft carrier Princeton sinks at Philippines
1944 – US capt David Mccampbell shoots down 9-11 Jap planes in Gulf of Leyte
1946 – A camera on board the V-2 No. 13 rocket takes the first photograph of earth from outer space.
1948 – Bernard M Baruch introduces term "Cold War"
1954 – Dwight D. Eisenhower pledges United States support to South Vietnam
1956 – Soviet troops invade Hungary, Imre Nagy becomes PM of Hungary
1957 – The USAF starts the X-20 Dyna-Soar program.
1960 – Disaster on USSR (Baikonoer) launch pad, kills missile expert Nedelin & team (165 die-unconfirmed); USSR claims killed in plane crash
1962 – In Cuban missile crisis, the US blockade of Cuba begins (see UE 10/14)
1963 – Sandy Koufax is unanimous winner of Cy Young Award
1964 – Belgian para's liberate 1,000 white hostages in Stanleyville
1964 – Zambia (N Rhodesia) gains independence from Britain (National Day)
1971 – Harry Drake sets longest arrow flight by a footbow (1 mile 268 yds)
1973 – Heavy fog causes 65 car collision killing 9 on NJ Turnpike
1973 – Yom Kippur War ends, Israel 65 miles from Cairo, 26 from Damascus
1976 – Hua Guofeng succeeds Mao as China's party leader
1980 – Iraqi troops occupies Khorramshar
1980 – Polish government legalizes independent labor union Solidarity
1984 – Steffi Graf plays her 1st pro tennis match
1987 – Bork's supreme court nomination rejected by senate
1988 – Traveling Wilburys Volume One is released
1988 – Typhoon Ruby sinks Philippine ferry; hundreds drown
1989 – Rev Jim Bakker is sentenced to 50 years for fraud
1998 – Launch of Deep Space 1 comet/asteroid mission
2002 – Police arrest spree killers John Allen Muhammad and Lee Boyd Malvo, ending the Beltway sniper attacks in the area around Washington, DC.
2003 – Concorde makes its last commercial flight.
2004 – 10 people, including 4 family members of Rick Hendrick, are killed in a plane crash near Martinsville Speedway. The plane was owned by NASCAR team Hendrick Motorsports.
2008 – "Bloody Friday" saw many of the world's stock exchanges experienced the worst declines in their history, with drops of around 10% in most indices.
Births
51 – Domitian, Roman Emperor (d. 96)
1378 – David Stewart, Duke of Rothesay, heir to the throne of Scotland (d. 1402)
1632 – Antonj van Leeuwenhoek, Holland , naturalist (Philosophical Transactions)
1763 – Dorothea von Schlegel, German novelist (d. 1839)
1788 – Sarah Josepha Hale, author (Mary Had a Little Lamb)
1794 – Friedrich B Freiherr von Gagern, German/Dutch army commandant
1815 – John Edwards, Brigadier General (Union volunteers), died in 1894
1830 – Belva Bennett Lockwood, attorney (1st lady to argue in Supreme Court)
1855 – James S. Sherman, Vice President of the United States (d. 1912)
1868 – Alexandra David-Néel, French explorer and writer (d. 1969)
1875 – Konstantin Yuon, Russian painter (d. 1958)
1887 – Octave Lapize, French cyclist (d. 1917)
1890 – Chicago Mainbocher, uniform designer (Red Cross, Girl Scouts, Waves)
1891 – Rafael L Trujillo Molina, president/dictator of Dom Rep (1930-61)
1892 – Kurt Huber, German philosopher/resistance fighter
1894 – Bibhutibhushan Mukhopadhyay, Bengali author (d. 1987)
1903 – Melvin Purvis, American FBI agent (d. 1960)
1904 – Moss Hart, Bronx NY, playwright (You Can't Take it With You, Act 1)
1906 – Alexander Gelfond, Russian mathematician (d. 1968)
1908 – John Alwyne Kitching, zoologist
1911 – Clarence M Kelley, FBI head
1911 – Sonny Terry, Singer, Bluesman , Harmonica Player
Hooray, Hooray, These Women Is Killin' Me                               Drinkin' Wine
Crow Jane Blues                                                                    Cornbread and Peas
Key to the Highway with Brownie McGhee                                Midnight Special
1915 – Bob Kane, American cartoonist (d. 1998)
1915 – Roger Milliken, American millionaire
1919 – Frank Piasecki, American aeronautical engineer (d. 2008)
1920 – Marcel-Paul Schützenberger, French mathematician (d. 1996)
1926 – Y A Tittle, AAFC/NFL QB (Baltimore, SF, NY Giants, MVP 1963)
1929 – George H Crumb, Charleston WV, composer (Pulitzer 1968-Echoes of Time)
1930 – Big Bopper, [JP Richardson], Sabine Pass Tx, vocalist (Chantilly Lace)
Purple People Eater Meets the Witch Doctor
1932 – Pierre-Gilles de Gennes, French physicist, Nobel Prize laureate (d. 2007)
1932 – Robert Mundell, Kingston, Ontario, economist and Nobel laureate (1999)
1936 – Bill Wyman, England, rocker (Rolling Stones-Under My Thumb)
1936 – David Nelson, NYC, actor (Adventures of Ozzie & Harriet)
1940 – David Sainsbury, English billionaire/founder (Dutch Soc-Dem)
1946 – Jerry Edmonton, Canada, rock drummer (Steppenwolf)
1947 – Kevin Kline, St Louis, actor (Sophie's Choice, Big Chill)
1948 – Dale "Buffin" Griffin, rock drummer (Mott The Hoople)
1960 – Ian Baker-Finch, Nambour Queensland, PGA golfer (1991 British Open)
1960 – Jaime Garzón, Colombian journalist and comedian (d. 1999)
1960 – Joachim "Jo" Winkelhock, German race car driver
1961 – Susan Leigh Still, Augusta Ga, lt cmdr USN/astronaut (STS 83, 94)
1962 – B D Wong, SF CA, actor (Freshman, Mystery Date)
1966 – Roman Abramovich, Russian oil magnate
1968 – Robert Wilonsky, American journalist
1970 – Rob Leslie-Carter, British Engineer and Project Manager
1980 – Monica, American singer
1980 – Zac Posen, American fashion designer
1981 – Mallika Sherawat, Indian actress
1981 – Tila Tequila, American model
1983 – Brian Vickers, American race car driver
1983 – Adrienne Bailon, American actress and singer
1983 – Keyshia Cole, American singer
Deaths
996 – Hugo Capet, king of France (987-96), dies at 58
1375 – King Valdemar IV of Denmark (b. 1320)
1537 – Jane Seymour, 3rd wife of Henry VIII, dies
1579 – Albrecht V von Wittelsbach, duke of Bavaria, dies at 51
1601 – Tycho Brahe, astronomer, dies in Prague at 54
1669 – William Prynne, English Puritan leader (b. 1600)
1672 – John Webb, English architect (b. 1611)
1708 – Kowa Seki, Japanese mathematician
1821 – Elias Boudinot, American President of the Continental Congress (b. 1740)
1852 – Daniel Webster, lawyer/speaker/minister of Foreign affairs, dies at 70
1860 – Elie Decazes, French Bourbon Restoration politician, dies at 80
1864 – James Jay Archer, US Confederate brigadier general, dies in battle at 46
1875 – Raffaello Carboni, Italian writer
1898 – Pierre Puvis de Chavannes, French painter (b. 1824)
1915 – Désiré Charnay, French archaeologist (b. 1828)
1922 – George Cadbury, British chocolate and cocoa manufacturer (b. 1839)
1929 – Peter J Blok, Dutch historian, dies at 74
1944 – Louis Renault, French automobile manufacturer (b. 1877)
1945 – Vidkun Quisling, Norwegian Min of Defense/PM (1942-45), executed at 58
1957 – Christian Dior, French designer (New Look), dies at 52 in Italy
1966 – Sofya Yanovskaya, Russian mathematician (b. 1896)
1970 – Richard Hofstadter, US historian, dies at 54
1972 – Jackie Robinson, 1st black baseball player (Bkln Dodgers), dies at 53
1975 – Ismail Erez, Turkish ambassador, killed by car bomb in Paris
1980 – Leonid Georiyevich Ivanov, Russia, cosmonaut (Soyuz 33), dies at 30
1983 – Jessica Savitch, news anchor (NBC-TV), dies at 35
1984 – Edith Massey, actress (Polyester, Pink Flamingos), dies at 66
1985 – Richie Evans, American NASCAR driver (b. 1941)
1991 – Gene Roddenberry, creator (Star Trek), dies of cardiac arrest at 70
1993 – Ben Scholtens, historian (Gaama Duumi), murdered at 39
1994 – Alexandr Nikolaievich Shelepin, dir of KGB (1958-61), dies
1994 – Raul Julia, actor (Addams Family), dies of stroke at 54
1995 – Ronald Selby Wright, minister, dies at 87
1997 – Don Messick, cartoon voice (Astro-Jetsons, Bamm Bamm), dies at 62
2004 – Randy Dorton, American race car crew member (b. 1954)
2004 – Ricky Hendrick, American race car team owner (b. 1980)
2005 – Rosa Parks, American civil rights activist (b. 1913)
—